Private or semi-private personalized events

Your custom event in a few clicks !
Private events
Gather your customers/partners together and offer them the opportunity to play on the famous OMEGA MASTERS course. Here you will find all the information you need to organise your personalised event.
We put our experience and skills in event organization at your service to set up a day specially adapted to your needs and your customers.
Services
In addition to design and consulting, the following services are included in the « Course-Fee » :
Privatization of the course
Privatization of part of the Club-House (bar, terrace, restaurant)
Installation of advertising visuals and any other material or furniture (welcome desk,...)
Driving Range : Balls at your disposal and specially reserved space

Route plan for each participant

Use of manual trolleys
Starter & Marshalls service
Looker rooms and lookers
Practice round at a preferential rate
2 golf cars for the orgaisation
Parking
In addition, in order to make the most of your day, each organizer also benefits form advantages and counter services such as :
OMEGA MASTERS VIP packages
Green-fee packages
Initiation or clinic for your non-golfing clients combined with a possible afternoon activity while the others play (visit to the Alpine museum, Opal foundation, cellat visit,...)
Green-fees et Course-fees
Before filling in the request for offer form and in order to give you a first idea of the budget, you will find here the different rates for green-fees and « course-fees » (fixed price including the above services). Rate vary according to the season and are subject to change depending on the number of participants.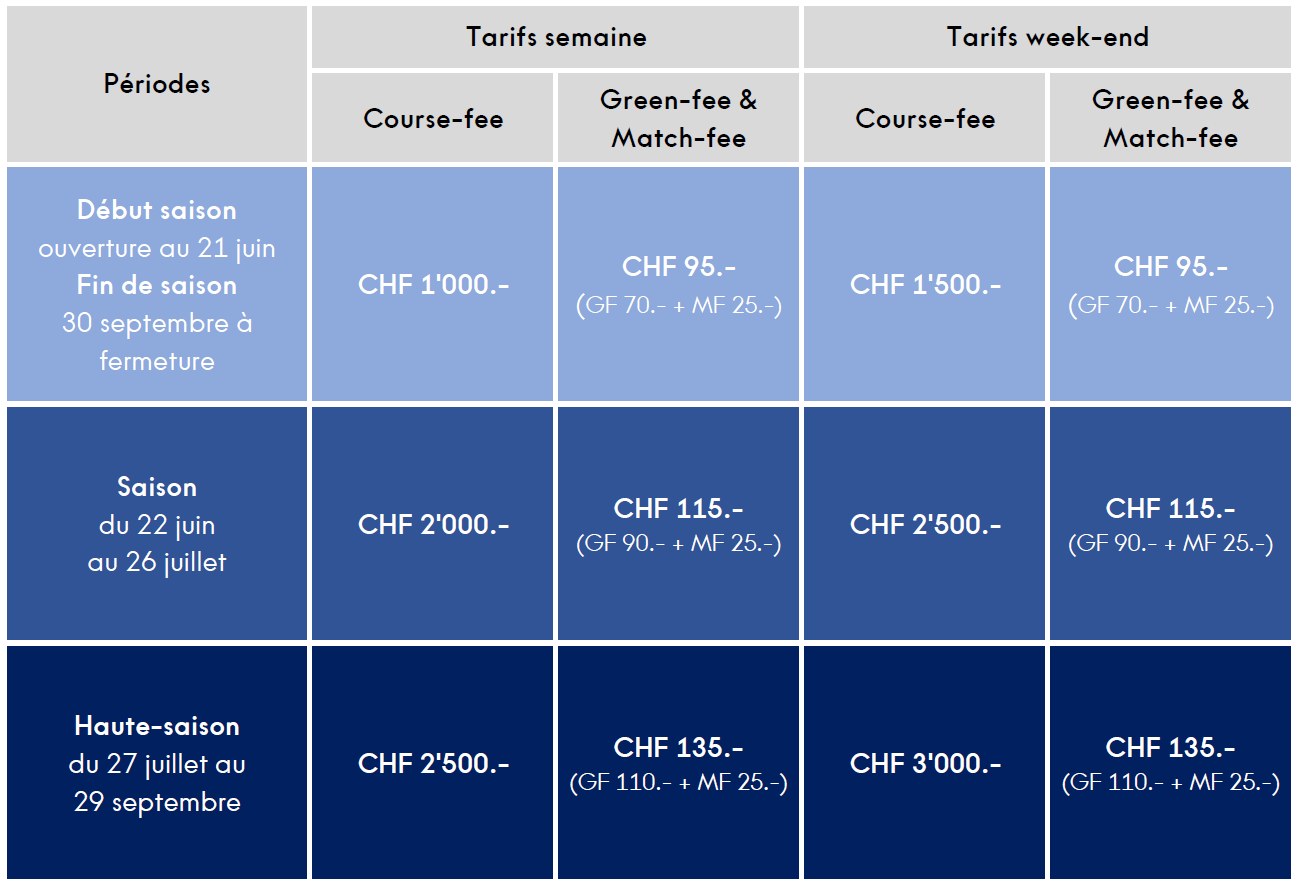 Semi-private events
There is also the possibility to organize events partially reserved for your customers and also open to the public (visitors, members) in order to promote your business and activites.
In this case, the rates for the «course-fees» vary according to the number of places reserved for guests and the public.
The above-mentioned services are also included for semi-private events.
Catering
Our Club-House has a magnificent dining room and a lounge terrace which is perfect for an aperitif during the awards ceremony. Click here to see some pictures.
In order to get an idea of the different catering offers you can consult the links below :
Request for offer